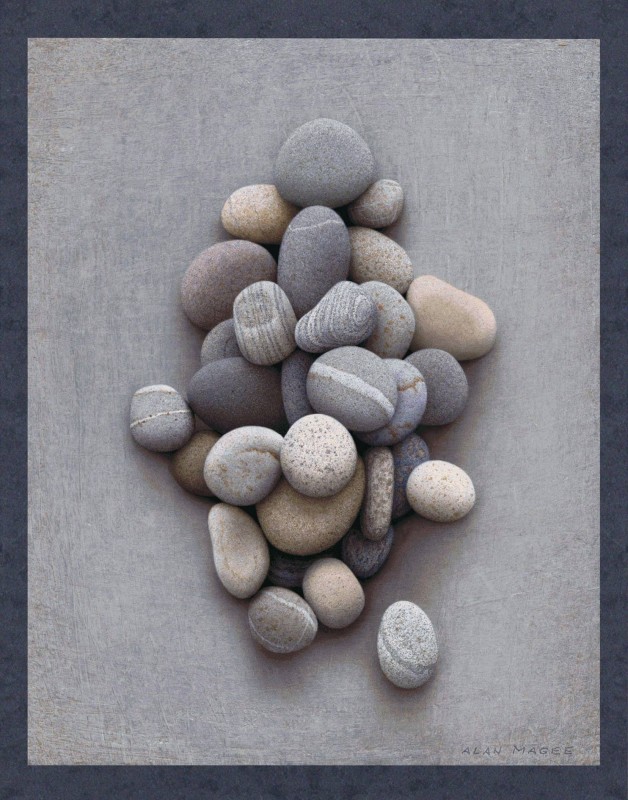 Cairn Tapestry, 2004
Jacquard tapestry
110 x 82 in.
edition of 15

Alan Magee is a realist painter best known for his ability to capture forms in nature. He paints in acrylic or watercolor and his works range in size from large and powerful works on canvas to small and precise works on paper. Among Magee's works are a number of paintings of beach stones discovered by the artist on the Atlantic shores of New England and along the rugged California coast. These meticulously crafted paintings not only reflect his fascination with texture and surface, but also a larger thematic interest in the mutability of nature and the passage of time.
Magee's forays into tapestry creation have been particularly exciting because of the scale afforded by the medium. The successful translation of his small, extraordinarily detailed images into comparatively enormous woven works has been a testament to the diverse possibilities offered by the loom. It also speaks to Magee's attention to detail: a painstaking and meticulous worker, Magee is one of the only artists to create and manipulate the digital files read by the Jacquard looms on his own. His paintings and prints can confound the viewer with their incredible realism; similarly, reviewers have been surprised to discover that his tapestries are not photographs screened onto canvas but are in fact woven.
In a 1991 interview, Alan Magee describes the early incarnations of his stone portraits as a catalyst, enabling a transition from illustration work to fine art: "I wanted to stand on a clear open road," Magee says, "so my thoughts could move down it without distraction." This clarity is a powerful current running through Magee's work, and its immediacy defies description. Magee's language is a transparent, serene poetics of light and texture, next to which verbal and textual expression seem designed to obscure rather than to reveal. The precisely woven blushes and speckles of his tapestries transmit a gentle, meditative feeling, as if calmly ushering the viewer down Magee's mental path toward enlightenment.
Magee's first tapestry was commissioned to hang in the Great Room of the Riverview Psychiatric Center in Augusta, Maine. More recently his tapestries have been displayed at the James A. Michener Art Museum, the Farnsworth Art Museum, the San Jose Institute of Contemporary Art, the Frye Art Museum, and the Shorenstein Building (Bank of America Building) in San Francisco.
show prices
Prices and availability are subject to change without notice.
The copyright of all art images belongs to the individual artists and Magnolia Editions, Inc.
©2003-2023
Magnolia Editions
, Inc. All rights reserved.
contact us