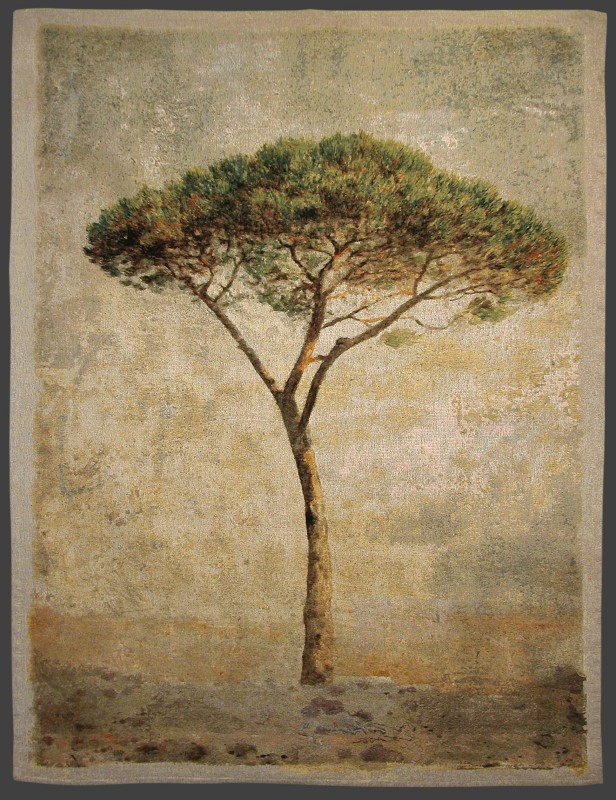 Forum Pine, 2003
Jacquard tapestry
82 x 63 in. and 61 x 46 in.
edition of 18

The work of Donald and Era Farnsworth possesses an understated, meditative quality that belies the sophisticated, often complex methods used in its creation. In their ongoing series of tree portraits, the Farnsworths employ a wide range of traditional printmaking and innovative digital methods to generate imagery whose effect is as singular as its techniques are diverse. For each portrait, the Farnsworths create an elegantly layered background by using chine collé to combine layers of aged Japanese paper with handmade paper – often from Magnolia Editions' papermaking studio – and washes of color. The figure of a single tree is then hand-painted in watercolor by the artists, who may add other watercolor details as well. At various points in this process, the image is manipulated digitally to achieve precise effects of color and tone.
By presenting each tree set apart from the forest, suspended in an ether of Donald Farnsworth's trademark textures, the artists invite the viewer to consider that tree's subtle splendor and individual presence. The degree of background abstraction varies: the spare, wintery frame of the subject of Vernal Equinox is matched with an equally austere ground; in Reflection III, a visible horizon emerges, indicating the water that mirrors the tree's explosion of autumnal color. The depth and resonance of the resulting works testify to the Farnsworths' appreciation of each tree's unique and distinguished character. In their recent use of the tapestry medium, the artists lend a powerful dimension of physicality to the subtle emotional weight of their portraits.
show prices
Prices and availability are subject to change without notice.
The copyright of all art images belongs to the individual artists and Magnolia Editions, Inc.
©2003-2023
Magnolia Editions
, Inc. All rights reserved.
contact us