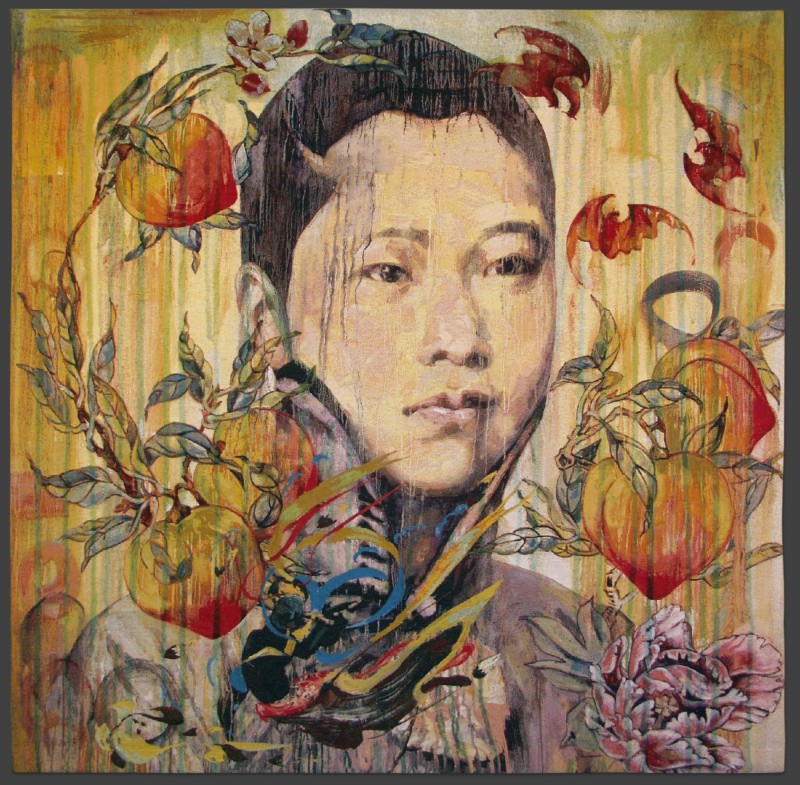 Fu (Happiness), 2006
Jacquard tapestry
79 x 81 in.
edition of 10
Sold out

In Fu (Happiness), Hung Liu has explored the tapestry's capacity to unify its constituent elements by treating the digital weave file as a canvas. Liu's second collaboration with the Magnolia Tapestry Project combines motifs, marks, and portraits scanned from various sketchbooks and paintings; the woven version represents these elements engaged together for the first time. As Magnolia continues to refine and expand its woven color palette, the tapestries are becoming increasingly bright and sophisticated: Fu (Happiness) possesses a remarkable depth, as if Liu had hand-painted each layer directly onto the cotton. Its colorful flora and fauna bloom and wing with a stunning vivacity, and their sense of flowering and emergence finds an enigmatic counterpoint in the central figure's expression, which subtly hints at a secret joy.
show prices
Prices and availability are subject to change without notice.
The copyright of all art images belongs to the individual artists and Magnolia Editions, Inc.
©2003-2022
Magnolia Editions
, Inc. All rights reserved.
contact us