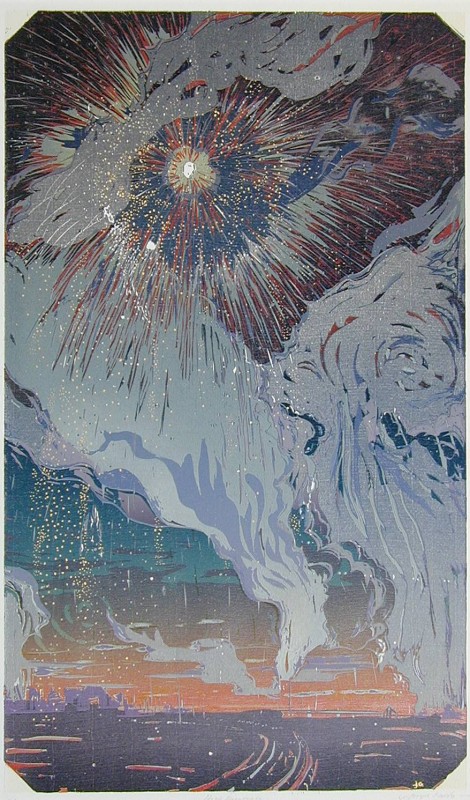 High Spectacle, 1988
12 color woodcut
26.25 x 15.5 in. (paper: 33.25 x 21.5 in.)
edition of 39

Joseph Goldyne's High Spectacle is an intricate 12 color woodcut. From the evocative graphic elements, the sense of celebration and harmonious colors of the palette, it is evident that Goldyne was thinking about Art Nouveau lithographs and woodcuts. But perhaps more relevant is the reference to Japanese woodblock prints which influenced much of the graphic European work at the turn of the century. The composition of High Spectacle is quite similar to what one might see in an ukiyo-e: the activities of humanity are dwarfed by the landscape, the viewer hovers in some unidentified location–but the natural specatcle of the moon is replaced by the artificial fireworks of the city. And while this reference and likeness of the fireworks to the moon gives the illusion of a static scene, the vision Goldyne represents here is rare and fleeting.
High Spectacle was cut at Magnolia Editions in Oakland, CA on plywood veneer in a reductive manner. Separate runs were made from the same block with the artist reducing the block/image with hand tools and a dremel motor tool between each run. The printing was done on a Steinmesse and Stollberg flatbed transfer press. The prints were pulled individually with a two-color "blend" on six of the runs. Twelve runs were completed and 17 colors employed. A lithographic plate was drawn by Joseph Goldyne representing the fine flecks of light falling from the rocket burst. This was inked in white and printed over the completed woodcut impression; gold leaf was then brushed over the wet ink and affixed to it. The artist then approved, signed and designated each impression.
show prices
Prices and availability are subject to change without notice.
The copyright of all art images belongs to the individual artists and Magnolia Editions, Inc.
©2003-2023
Magnolia Editions
, Inc. All rights reserved.
contact us