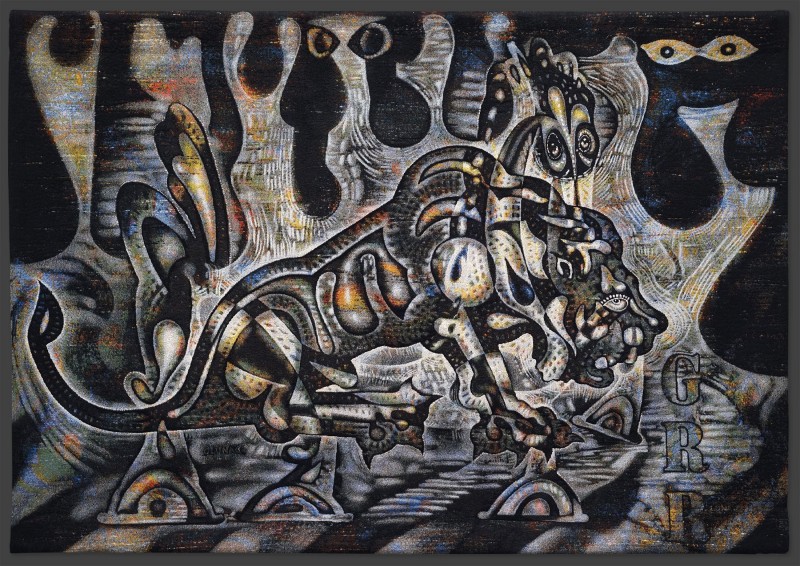 Who Eats Whom, 2014
Jacquard tapestry
66 x 90.5 inches (approx.)
edition of 10

Who Eats Whom is Magnolia Editions' first publication by Cuban-born artist Carlos Luna.
"Overt — sometimes savage — sensuality and eroticism are among the constant features of the art of Carlos Luna. Every aspect of the artist's compositions seems to be in a state of eternal transformation or metamorphosis — from the internal structures to the overt interest in the surfaces.
Carlos's oeuvre is a brilliant amalgam of native Cuban influence from twentieth-century artists such as Wilfredo Lam, Mario Carreño, and Cundo Bermudez, among others, and the profound influence of Picasso's and Gris's Cubism and Leger's futurist embrace of the machine age. Grafted onto these artistic exemplars from his compatriots and icons of western modernism, are his experiences in Mexico, where he lived for over a decade immediately following his departure from Cuba. Luna finds inspiration in the naïve and the provincial, uniquely melding Mexico's penchant for the macabre and the primitive with the art of the western academy. The artist's individualism results from his inventive exploration of these culturally diverse artistic forces.
Luna's histories cannot easily be digested in a simple way. Instead, the artist knits together folklore and anecdotes with his own complex mythology from his hometown of San Luis in the rural province of Pinar del Rio, situated in the western most fringes of Cuba."
– Scott Schweigert, 2006
show prices
Prices and availability are subject to change without notice.
The copyright of all art images belongs to the individual artists and Magnolia Editions, Inc.
©2003-2023
Magnolia Editions
, Inc. All rights reserved.
contact us